Sugar Pine 7, also known as "SP7", was an American entertainment company founded by: Steven Suptic, Clayton "Cib" James and James DeAngelis in 2017, originally known as a "vlogging" channel created by Steven Suptic. The company's flagship product is the vlog inspired mockumentary web series, Alternative Lifestyle, featuring the cast as exaggerated versions of themselves.[1] As of January 2018, the YouTube channel has over one million subscribers and over 62 million video views. Sugar Pine 7 had been a member of the Let's Play Family since May 25, 2017. The group partnered with Rooster Teeth on January 11, 2018.
The YouTube channel used to host the content originated as Steven's personal channel. Prior to a large purge and deletion of videos, Steven hosted let's plays and various content. SourceFed was Steven's primary source of income until the company became defunct on March 25, 2017. At this time, the channel was branded as "The Steven Suptic Experience" and side-projects, such as "The Boys Only Club Podcast" (now a separate channel) were created. After SourceFed's cancellation Steven started producing videos he had dubbed "Alternative Lifestyle", which were in the style of vlogs with exaggerated personalities, subtitles, and freeze-frame narration. Steven brought on board Clayton "Cib" James, James DeAngelis, Parker "ParkerGames" Coppins, and later on Autumn "Rufhaus" Farrell as regulars for the videos. After the season one finale of Alternative Lifestyle, the channel was officially renamed to "Sugar Pine 7".
On May 30, 2019, they announced via a podcast that they are no longer employees of Rooster Teeth.
On June 1, 2019, it was announced via a YouTube video that Sugar Pine 7 would end.[2]
History
[
]
Steven Suptic met Clayton "Cib" James in 2012 and the two became friends. He later met James DeAngelis and editor Autumn Farrell while he was working at SourceFed. After SourceFed was canceled in late March 2017, Suptic began a web series on his personal YouTube channel called Alternative Lifestyle, and subsequently co-founded Sugar Pine 7 with Clayton James and James DeAngelis, who had become regular cast members of the series. Regarding their style, Suptic has described Alternative Lifestyle as a "freeze-frame narrated, hyper-surrealistic, improv-based comedy that uses the vlog format as a vehicle to promote a character-driven story".[3][4] The name "Sugar Pine 7" refers to the name of the cabin the main group once stayed in.[5] After working independently for several months, Sugar Pine 7 became a part of Rooster Teeth's multi-channel network called the LetsPlay Network.[6]
In 2017, Sugar Pine 7's Alternative Lifestyle won the Streamy Award for Show of the Year.[7] They also attended RTX Austin in 2017, and will attend RTX Sydney in 2018.[8] In early November 2017 they released their first short film, entitled The Woods, a "cheesy horror story." Kyle Kizu of The Daily Californian named Sugar Pine 7 "the pinnacle of YouTube content creation."[9]
Members
[
]
Main

[

]

Steven Suptic (Founder)
Clayton "Cib" James
James DeAngelis (Cameraman)
(Famous Actor) James Allen "Jamie" McCune (Producer)
Mimi Torres (Producer)
Vicky Pham (Editor)
Devin Parker
Autumn "Rufhaus" Farrell (Editor)

Recurring

[

]

Alfredo (Fictional Cameraman)
Parker "ParkerGames" Coppins
Jeremy Sauder
Andrew "SigilsPlaysGames"
Sami Jo Siedband
Reina Scully
James Buckley
Trivia
[
]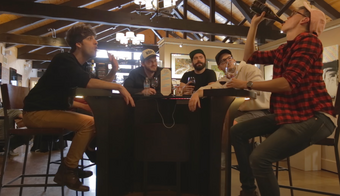 The name of the channel originated from a cabin Steven, Cib, James, Parker, Jeremy, and Andrew were staying in while they were in the town of Idyllwild, California. The cabin was referred to as, "Sugar Pine 7".
The channel has made multiple collabs with Cow Chop and Funhaus, two other groups of the Let's Play Family. Sugar Pine 7 have appeared in their videos likewise.
On January 11, 2018, Sugar Pine 7 was purchased by Rooster Teeth for 5 Bitcoin, as part of their vlog's canon.
References
[
]
Sugar Pine 7
Let's Play Family
Main Groups
Smaller Channels & Individuals

Former
Events