Red vs. Blue: The Shisno Paradox[1] is the sixteenth season of the machinima series Red vs. Blue. Season 15 writer-director Joe Nicolosi confirmed he will return for those tasks during a Reddit AMA.[2] The first image from the season was posted to Collider on January 17, 2018, released alongside the reveal of Rooster Teeth's 2018 animation slate.[3] Nicolosi later shared more info about the season, namely that it would debut in April, start a multi-season arc, and be co-written with Jason Weight, who had also done the PSA "Caboose's Guide to Finding Your Home".[4]
Synopsis
[
]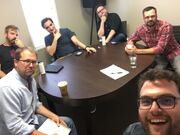 The award-winning, longest-running web series Red vs. Blue returns with season 16. Picking up in the moments after the conclusion of season 15, Red vs. Blue returns with a new saga, pitting the characters against powerful new foes and launching them back into an epic adventure unlike any other in the show's history
Characters
[
]
Reds and Blues
[
]
Chorus
[
]
Jensen
Palomo
Smith
Bitters
Dr. Grey
Cosmic Powers
[
]
Huggins
Muggins
Atlus Arcadium Rex
Kalirama
Genkins
Others
[
]
Dylan Andrews
Jax Jonez
Private John
Private George
Private Alex
Camelot Knights
Jax's film crew
Episodes
[
]
Episode List
#
Episode Title
Running Time
Description
1.
The Shisno
9:36
The beginning of a new adventure for the Reds and Blues picks up right where the last one left off... a conversation about where to get lunch. Unbeknownst to our heroes, powerful forces have taken an interest in the debate.
2.
Incendiary Incidents
11:30
The gang goes out for pizza. Grif attempts to stop the plot from moving forward. The return of a deceased teammate throws all their plans in peril.
3.
Lost Time
8:52
Adrift in time and space, the Reds and Blues attempt to make sense of Donut's cryptic message. Sarge reopens old wounds. Caboose has a time machine.
4.
Sis and Tuc's Sexellent Adventure
10:44
Tucker and Sister go on a side quest to settle a romantic argument. Grif yells at children.
5.
Headshots
12:46
Sarge and Simmons take their new Red Team recruits on a mission to settle an old score. Powerful forces meet on Starseeds to discuss the Reds and Blues.
6.
A Pizza the Action
8:59
Grif and Doc struggle to invent pizza. Tucker and Sister get wasted.
7.
It Just Winked At Me
7:44
Two of the Reds and Blues engage in mortal combat against King Atlus' champion. Huggins says hi.
8.
Recovery
11:52
On the planet of Chorus, Agent Carolina helps Washington with the final stages of his recovery. Meanwhile, in the distant past, Grif attempts to put down roots.
9.
Walk and Talk
13:40
Agents Carolina and Washington visit with Dylan's time travel expert. Grif gets his steps in.
10.
Caboose's Travels]]
10:37
Caboose shares his vacation photos. In the distant past, the King of England receives an unexpected guest.
11.
Sword Loser
10:05
Huggins makes her plea to the Cosmic Powers. Grif's wish comes true.
12.
Docudrama
10:30
The Reds and Blues reunite behind the scenes of Jax's movie production. Grif attempts to wrangle cats.
13.
A Time for Hammers
11:41
The Cosmic Powers reveal the mythic origins of their war against Chrovos. The Reds and Blues learn their part in the battle to come.
14.
Lights Out
9:15
Tucker struggles to cope with the truth about Washington. A sleeping giant wakes.
15.
Paradox
22:27
In the season finale of the Shisno Paradox, Carolina leads the Reds and Blues in a time travel rescue mission to save Agent Washington.
Trivia
[
]
This season was confirmed to take place moments after Season 15 in its official synopsis.
For the first time, a live-action character interacts with the animated ones in canon, during the episode where Tucker and Sister fights a Cyclops played by Gus Sorola.
Originally only released on Roosterteeth.com, the season was wholly uploaded on the series' YouTube channel the same day Red vs. Blue: Singularity started, though for unknown reasons with episodes out of order.
References
[
]