| | |
| --- | --- |
| | You may help Rooster Teeth Wiki by expanding this stub. |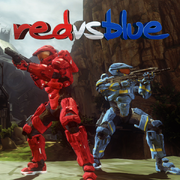 Red vs. Blue: Season 11 is the first season of Red vs. Blue produced inside Halo 4. Written and directed by Miles Luna, it was announced to be in production by Burnie Burns. The first episode was released on June 14, 2013. The season continues where the previous ended, with the adventures of the Reds and Blues at their new home in the planet Chorus. This season marks the beginning of a new saga in the RvB series, the Chorus Trilogy. It ran concurrently with the new series RWBY, with a new episode or PSA released every Monday.
Characters
Edit
Episode
Description
Running Time
Air Date
Link
Episode 1
One-Zero-One
The Reds and Blues settle in at their new home after a ship crash landing.
4:38
June 14, 2013
1
Episode 2
Get Your Tucks in a Row
Wash and Caboose leave for Blue base to confront Tucker. Meanwhile, the Reds discuss a dilemma about their base.
3:42
June 24, 2013
2
Episode 3
Barriers to Entry
Sarge lays down a few ground rules regarding his personal space, while Wash comforts a sad Caboose.
4:53
July 1, 2013
3

Episode 4
Heavy Mettle

While depressed over the departure of his best friend, Caboose comes across something mysterious.
5:36
July 8, 2013
4

Episode 5

A Real Fixer Upper

As Washington and Tucker begin work on the communications tower, Sarge activates Red Team's newest addition.
5:30
July 15, 2013
5

Episode 6

S.O.S.

The Reds and Blues work together to repair the communications tower. Afterwards, Caboose introduces his new pet.

8:38
July 22, 2013
6

Episode 7

Can I Keep It?

The Blues get acquainted with Caboose's robot pet Mantis, Freckles. Meanwhile, Sarge orders Grif and Simmons to recon on Blue Team.
7:11
July 29, 2013
7

Episode 8

The Grass is Greener. The Blues are Bluer.

Grif and Simmons execute their reconnaissance on Blue Team.
4:44
August 12, 2013
8

Episode 9

A House Divided, Then Multiplied

Sarge overreacts over Simmons' departure and prepares a counterattack. Meanwhile, Washington and Tucker butt heads.
5:31
August 19, 2013
9

Episode 10

Long Live the King

Tension arise between the Red and Blue Teams.
6:10
August 26, 2013
10

Episode 11

Worst Laid Plans

While Caboose gets accustomed with his new position, the Reds divulge a plan to eliminate of Freckles.
8:31
September 2, 2013
11

Episode 12

Finders Keepers

Sarge, Grif, and Doc discover some interesting things inside the ship.
7:41
September 9, 2013
12

Episode 13

+1 Follower

Simmons brings a source of social media inside the canyon, while Lopez and Lopez 2.0 are given important information.
6:56
September 23, 2013
13

Episode 14

Reconciliation

Donut cleans the Red base, while Wash and Tucker have a discussion over leadership.
7:08
September 30, 2013
14

Episode 15

Neighborhood Watch

Wash gives Caboose a present, while the Reds complete their constructions over their Mantis.
9:52
October 7, 2013
15

Episode 16

FAQ

Felix, the orange soldier, tells the Reds and Blues about where they landed and why it was so important for him to find them.
6:06
October 13, 2013
16

Episode 17

Ready...Aim...

The Reds and Blues begin fortifying their defences for an imminent attack. Meanwhile, Lopez 2.0 gets a dastardly plan.
7:57
October 28, 2013
17

Episode 18

Fire

The Reds and Blues engage in a fierce battle against Locus and the Federal Army.
8:55
November 4, 2013
18

Episode 19

Lost But Not Forgotten

Tucker, Caboose, Grif and Simmons join the New Republic army to rescue their friends.
8:54
November 11, 2013
19

Community content is available under
CC-BY-SA
unless otherwise noted.