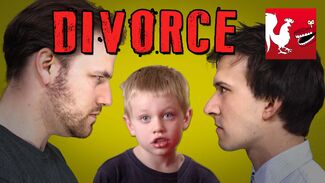 "I am the law!"
Office Divorce is an RT Short published March 1, 2015. When Ryan is divorce-ambushed by Chris and his super lawyer, all hell breaks loose.
Staff in Order of Appearance
Edit
The short opens with Chris calling Ryan into a conference room. Chris requests that he and Ryan get a coworker divorce, with Kerry coming in as Chris' lawyer despite having no legal knowledge. Kerry gives Ryan a few conditions, including being able to use the break room on Tuesdays, Wednesdays, and Thursdays and custody of the office. Ryan protests at this, with Chris offering full rights to the stapler and partial custody with visitation rights every other weekend. Chris then tells Ryan that this whole affair is about the kids, which Ryan protests since Chris is obviously not the biological mother. Chris yells at Ryan about dropping off "their" kids at a weird building that morning, meaning school. Chris brings them into a room, except instead of picking up Ryan's son he picked up a random child and Ryan's daughter. Kerry decides that Ryan's daughter, Cindy, will choose who gets the office. Chris uses toys and sweets to make Cindy choose him and leaves with her, telling Ryan to clear out his stuff by Monday. Kerry tells Ryan that he can help him make a case against Ryan, with Ryan telling him that he just kidnapped a child and will see him in court. Kerry replies, "I'll see you in hell." Ryan then wonders if his wife will notice the difference and walks off with the random boy, asking if it's okay if he calls him Cindy.
Community content is available under
CC-BY-SA
unless otherwise noted.