"Mankind's darkest hour needs our brightest heroes"
— Tagline of Lazer Team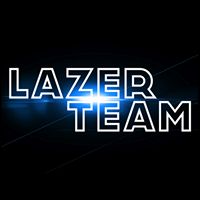 Lazer Team is Rooster Teeth's first feature-length movie, released on January 27, 2016. Written and directed by Matt Hullum, the project was funded by the Rooster Teeth Community from an Indiegogo Campaign. The campaign concluded on July 6, 2014 with nearly $2.5 Million dollars raised, roughly 385% of their original goal.
In the late 1970s, the Search For Extraterrestrial Intelligence project received a one time signal from outer space. It looked exactly as theorists thought a communication from an alien civilization would—unfortunately it has never been decoded. Or so we were told. Unbeknownst to the general public the signal was translated and told us two things:
We are not alone.
The galaxy is a dangerous place.
The story is live action sci-fi comedy that takes place decades later in the aftermath of this event. Rooster Teeth will be holding a conference call for all our BTS-level and higher supporters on Tuesday June 17, 2014 during which will we cover the plot in greater detail.
Rooster Teeth achieved its goals for the project in about 11 hours after launching the campaign
Stretch goals include:

New installments of the series Game Time With Burnie, featuring staff who were crucial to the project
Concept Art releases
Studio tour video

The very last line of the movie, "Oh, what the fu-" is a reference to Rooster Teeth's web show Red vs Blue, in which a running gag is the characters - in particular Leonard Church (who is also voiced by Burnie) - constantly saying, "Oh, son of a bitch!" (or some other variation). This phrase is always cut off mid sentence by a cut or other event, such as an explosion or the episode ending, and as such the Lazer Team line references it perfectly.
Burnie Burns as Hagan
Michael Jones as Zach
Gavin Free as Woody
Colton Dunn as Herman
Alan Ritchson as Adam

Dalton E. Gray as Young Adult Adam

Alexandria Deberry as Mindy
Gustavo Sorola as Disheveled Scientist
Irina Voronina as Female Scientist
David Blackwell as Store Clerk
Johnny Walter as Murdoch
Caiti Ward as Party Goer
Bobby Hernandez as Cronie
Jeremy St. James as Bean
Mike Dell as Commander
Anothony Taylor Lopez as Soldier
Joel Heyman as News Reporter
Community content is available under
CC-BY-SA
unless otherwise noted.