Jurassic World: Dominion Dominates Fandom Wikis - The Loop
Play Sound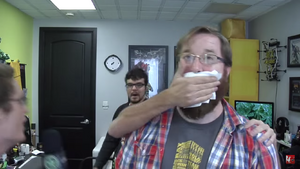 Lads Action News was primarily an alternative to a regular episode of Achievement Hunter Weekly Update (AHWU). On occasion, a number of Achievement Hunter "Team Gents" (Geoff Ramsey, Jack Pattillo, and Ryan Haywood) staff would be absent for filming AHWU. So, in certain AHWU episodes (See Below), "Team Lads" (Gavin Free, Michael Jones, and Ray Narvaez, Jr.) would film a mediocre news show. The Lads would "interview" various staff of Rooster Teeth
This series of episodes began on July 15, 2013 with AHWU #170 and concluded with AHWU #251 on February 9, 2015.
Episodes
[
]
Lads Action News appears on AHWU episodes 170, 187, 191, 195, 233, and 251.
In addition to the six normal episodes, other productions were created around Lads Action News. The three part 'Let's Play: GTA V - Action News Teams' was created and teams 'Lads and Gents' competed to get the best "scoop". 'RT Life - Lads Action News' breaks the fourth wall and shows footage of 'The lads' filming. Also, an intro to PAX EAST, titled: 'PAX EAST Special - Achievement Hunter Presents: Team Lads Action News', was published.