Jurassic World: Dominion Dominates Fandom Wikis - The Loop
Play Sound
This Article is incomplete.
You may help out the wiki by completing this Article!
Inside Gaming is a Rooster Teeth news channel and the official gaming news division of Rooster Teeth. The "Inside Gaming" brand was formerly a news subsidiary channel under Machinima from 2008-2019 and, after Machinima shut down, it is currently hosted on the former The Know channel. On February 14, 2019, Rooster Teeth acquired and revived Machinima's Inside Gaming brand by renaming, converting, rebranding and repurposing The Know to Inside Gaming. The Know and Machinima's social team will be combined with the "new" Inside Gaming (2.0). Lawrence Sonntag, Adam Kovic, Bruce Greene and Alanah Pearce from Funhaus (the former cast of Machinima's channel), will primarily host Inside Gaming and will include gaming news, features and reviews, with the newly reestablished the Inside Gaming brand. Rooster Teeth Productions LLC., and Machinima's productions are housed under Otter Media,[1] making the restructure possible.[2]
In late 2019, Lawrence Sonntag announced his departure from the channel, with Autumn Farrell taking over in his absence.[3] Autumn served as the Studio Head for RT West, responsible for handling all the administrative, managerial, and corporate responsibilities until her departure from Rooster Teeth in September of 2020.
"Thanks to an impossible series of corporate acquisitions and mergers, we're right back doing the show we ran away from nearly four years ago, until today. [February 14, 2019]"
— Adam Kovic, Inside Gaming Returns! Machinima Can't Kill Us - Inside Gaming Daily[4]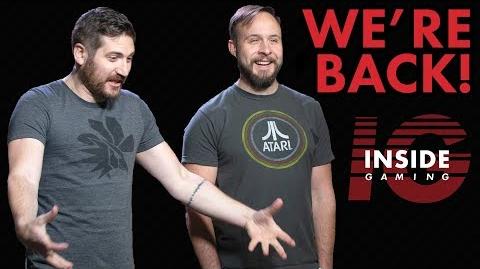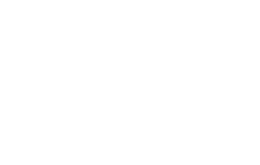 History
[
]
Machinima: 2008-2019
[
]
Inside Gaming was the main editorial brand of Machinima. Coverage of gaming news, previews, and reviews was provided for more than 600,000 weekly viewers through daily and weekly shows on its YouTube channel hosted by then-employee Adam Kovic under the alias "The Dead Pixel". He was often seen in a Halo 3-themed machinima form in his lava-red Recon helmet.
Inside Gaming is the successor to Machinima's discontinued segment, Inside Halo, which was less successful because of the lack of news surrounding the Halo series. Inside Halo was developed and hosted by "Soda God" who alternated weekly hosting with Adam Kovic who became the only host. Eventually an official co-host, Matt Dannevik, joined Kovic on the set of Inside Gaming Daily; he was laid off in December 2012. Producers Bruce Greene and James Willems regularly co-hosted with Kovic, and have started their own YouTube channel under Inside Gaming. Inside Gaming also hosted its own annual awards show, the "Inside Gaming Awards" in Los Angeles. The awards show celebrates the biggest developers and achievements in the video-games industry, and features top gaming choices by viewers and the staff of Inside Gaming. Categories in which games are selected include, among others: Game of the Year, Best Online Multiplayer, and Best Original Games.
On January 26, 2015, Inside Gaming employees Adam "The Grump" Kovic, Bruce "The Maniac" Greene, Lawrence "The Brain" Sonntag, Joel "The Dancer" Rubin, Sean "The Shirtless" Poole, James "Obviously The Muscle" Willems, and Matt "the Omnipotent" Peake announced that they were leaving Machinima. The group is now known as Funhaus, a subsidiary of Rooster Teeth Productions. On April 9, 2015, Matt Dannevik announced in a video that he would be returning to Machinima and taking over the Inside Gaming channel, with help from other members of Machinima.
Rooster Teeth: 2019-present
[
]
In February 2019, following the sunset of Machinima, it was announced that Inside Gaming would be revived as a merger with Rooster Teeth's The Know, with Sonntag as editor-in-chief, and Kovic and Greene returning as hosts alongside former IGN journalist Alanah Pearce. It was also announced that Rooster Teeth would also manage the archives of the series.
On January 4th, 2021, it was announced in an Inside Gaming video that Inside Gaming Daily would not be continuing and that most of the Inside Gaming staff would move to positions elsewhere within Rooster Teeth. Brian Gaar will be continuing to host weekly news round-up videos for the channel.[5]
Staff
[
]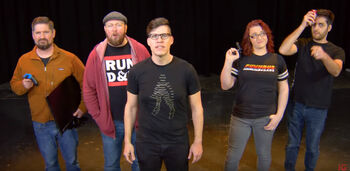 Former
[
]
Shows
[
]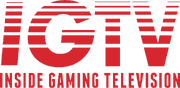 Classic Inside Gaming, a catalog of episodes from the Machinima Inc. ownership era.

Inside Gaming Daily

, gaming news.

Inside Gaming Explains

, an intro to a video game and its series.

Inside Gaming TV

, a live stream of Classic Inside Gaming (may be streamed on the Funhaus YouTube channel).[6]
References
[
]
Inside Gaming
Crew
Former Crew
Shows

Inside Gaming Daily

Inside Gaming Television