Funhaus (pronounced "fun-house"), often abbreviated as FH is an American video-gaming, gaming news and entertainment news YouTube channel owned by Rooster Teeth based in Los Angeles, CA, run by a group of gamers, gaming journalists, content producers, video game entertainers, comedians, commentators, movie, TV Show and video game reviewers, on-camera hosts, featuring members of the former Machinima group 'Inside Gaming' (now revived as of 2019). With the disentegration of Machinima in early 2019, Rooster Teeth bought the Inside Gaming label, and the show now runs concurrently with Funhaus, starring the same (and original) cast. Like Achievement Hunter, The Know and ScrewAttack, Funhaus is also another division of Rooster Teeth Productions. The channel focuses on both gaming news and gameplay, similar to The Know and Let's Play respectively, with videos and podcasts on video game culture, film, television, and comics.
Their content mostly consists of game-play videos, as well as podcasts, fan Q&As, game shows, previews and reviews, in addition to video game news segments and game shows previewing and reviewing video games, video game culture, film, movies and TV shows, technology products, Google Trends and television shows of various genres in a retrospective and comedic manner where the hosts discuss current events in movies, TV shows, gaming, technology, and media.
Hosted by the former cast of Machinima Inc's Inside Gaming (Adam Kovic, James Willems, Matt Peake, and formerly Sean "Spoole" Poole, Joel Rubin, Bruce Greene and Lawrence Sonntag), along with former GameTrailers hosts Elyse Willems (since November 2015), Omar de Armas (since February 2016), and former IGN host Alanah Pearce (since August 2018) the Funhaus channel produces and hosts a large variety of gameplay videos of various genres in a retrospective and comedic manner, in a similar manner to Achievement Hunter,[1][2][3][4] where the team claims that they "will play everything from GTA to the crappiest games they can find". These range from forgotten trash like Demo Disk where they play games from late 90s demo CDs and drinking games because they claim that they are "responsible adults". Most of their gameplays are single-player, with either Adam or Lawrence as the test subject while background cast serve as comedic commentators and background spectators. On occasion during the middle of the gameplay video, Adam or Lawrence will rotate out giving someone else a chance at the controls. Their Funhaus GTA 5 Gameplay is a series where the crew (either one person or 4 crew members) would play GTA Online matches, usually with the fan community.[5][6]
In addition to the gameplay series such as Demo Disk (gameplay of video game demos sent by fans) and Wheelhaus (gameplay of Steam games randomly chosen from a spinner), Funhaus also produces podcasts (such as Dude Soup and Movie Podcasts) and field fan Qs&As (mostly about games, such as Open Haus), including segments, a current live-stream called FunhausTV on YouTube, and the now-defunct Sex Swing: The Animated Series.and, (until November, 2016), they did regular news content for The Know, appearing on the Rooster Teeth news channel on Mondays, Wednesdays and Fridays (with Adam Kovic and Bruce Greene as co-anchors while Lawrence, James and Elyse as recurring secondary co-anchors, also occasionally appearing alongside Ashley Jenkins, Jon Risinger, Ryan Haywood, Gus Sorola and formerly Meg Turney until her departure from Rooster Teeth and The Know in June 2016). However, in October 2018, it was announced that Funhaus would resume hosting, producing, filming and starring in a brand new revamped news show series on their own channel (similar to The Know) called "Gaming Weekly", starring Adam and Bruce.[7][8][9]
The team also performs Let's Plays, event coverages, live streams, fan meetups and fan events at various conventions and expos (such as LPL, RTX, PAX etc.) as well as collaborations and crossovers with other fellow friends and colleagues from Rooster Teeth, YouTube, and beyond, who "wouldn't be [too] embarrassed to be seen with them", according to the team.[10] Since their founding, Funhaus has collaborated with Achievement Hunter and The Know (which they still do with AH but no longer produce content for The Know as of November 2016), in addition to ScrewAttack (now Game Attack), Kinda Funny, The Creatures (who have now dissolved as of July 2017), Cow Chop, Sugar Pine 7, Game Grumps, Smosh Games and other members of the LP family.
Joining forces with leading production company Rooster Teeth in 2015, Funhaus has already amassed 1M+ YouTube subscribers and 500M+ channel views. Since its founding, Funhaus has grown to become a major core component of Rooster Teeth next to Achievement Hunter, hosting a wide variety of videos related to video games. Their website, formatted to the Rooster Teeth website was launched in 2015 along with the Funhaus YouTube channel. The most frequent videos are hosted by most prolific employees: Adam Kovic, Bruce Greene (formerly), James Willems, Lawrence Sonntag, and Elyse Willems, with recurring secondary appearances from head editors Matt Peake and Omar de Armas. As of December 2016, Funhaus clocks over 200,000 Twitter followers and over 1 million subscribers on their YouTube channel.
In December 21, 2017, it was announced that Funhaus would be getting retooled with transparency switch ups, coming into effect in spring of 2018. These changes include less GTA gameplays, Comment Show gone for good, Dude Soup switching days, Demo Disk and Wheelhaus will be going on rotation with one another as well as more "skit" based videos with higher production like Talking Stalkings, Avatar, Skaters vs Surfers etc. Editors like Peake, Don, Bones, Omar etc. will be rotated in more videos as they'll have less editing to do and to avoid everyone becoming stale/burned out. The team is hoping for a more community interactions, live events, livestreams etc. Last but not the least, there would also be a "Funhaus TV", which will be a 24/7 stream of their archive, with new/live content being spliced in regularly.[11][12][13]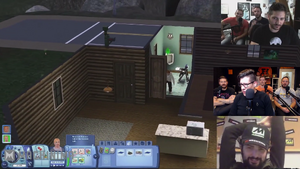 On February 14, 2019, two weeks after Machinima Inc. shut down and ceased operations, it was announced that Rooster Teeth would be reviving the Inside Gaming show as well as publishing archives of oher videos, shows and content of Machinima and Inside Gaming from 2008-2015. The original Inside Gaming was Machinima.com's gaming news show that was eventually expanded into its own channel. After Machinima.com's closure, Rooster Teeth acquired the brand, took the former employees who were working for it at time, merged that staff with The Know's staff (whose staff includes Inside Gaming's founder Adam Kovic and former Inside Gaming members Bruce Greene and Lawrence Sonntag), and renamed The Know (including its channel) to Inside Gaming on Valentine's Day 2019. It was also announced that after IG started back up at Rooster Teeth, Lawrence took a backseat in creating content for FH, no longer hosting Dude Soup or Google Trends anymore. Alanah took over Trends but also writing for IG as well. [15][16][17][18][19][20][21][22][23][24][25]
On September 3rd, 2019, Bruce Greene announced he would be leaving Funhaus and Rooster Teeth to pursue his own brand after taking a month-sabbatical to consider and think about his options. On December 17th, 2019, Lawrence also announced his departure.[26] Adam departed the company shortly after breaching its code of conduct in October 2020. Alanah left later that month to join Santa Monica Studios.
History and creation
Funhaus is best known as the "Inside Gaming" of Rooster Teeth, a brand under the name of the RT company. Inside Gaming is the main editorial brand by the company of Machinima Inc. Originally a Halo exclusive show under the name Inside Halo and later video game news show on the Machinima main YouTube channel, it later branched out into its own multimedia conglomerate that covers gameplay, live action skits, Q&As, podcasts, reviews, and previews. Coverage of gaming news, previews, and reviews was provided for more than 600,000 weekly viewers through daily and weekly shows on its YouTube channel hosted by then employee Adam Kovic under the alias "The Dead Pixel" and Mike Rouse, also known as "sodagod'. Mike's position was later replaced by fellow Machinima Inc staff member Bruce Greene during the relaunch. He was often seen in Halo 3-themed machinima form in his lava-red Recon helmet.
Inside Gaming is the successor to Machinima's discontinued segment, Inside Halo, which was less successful because of the lack of news surrounding the Halo series. Inside Halo was developed and hosted by "Soda God" who alternated weekly hosting with Adam Kovic who became the only host. Eventually an official co-host, Matt Dannevik, joined Kovic on the set of Inside Gaming Daily; he was laid off in December 2012. Producers Bruce Greene and James Willems regularly co-hosted with Kovic, and have started their own YouTube channel under Inside Gaming.[24] Inside Gaming also hosted its own annual awards show, the "Inside Gaming Awards" in Los Angeles.[23] The awards show celebrates the biggest developers and achievements in the video-games industry,[27] and features top gaming choices by viewers and the staff of Inside Gaming. Categories in which games are selected include, among others: Game of the Year, Best Online Multiplayer, and Best Original Games.[28]
On January 26, 2015, the original Inside Gaming cast (Adam Kovic, Bruce Greene, James Willems, Lawrence Sonntag, Matt Peake, Joel Rubin, and Sean "Spoole" Poole) announced that they would be leaving Machinima and later officially join Rooster Teeth under the new name Funhaus. They left on January 27.
On April 2, 2015, The Inside Gaming Twitter account tweeted that they would be making an announcement the following week, followed by a confirmation of the announcement the next day.[29] On April 9, 2015, The Inside Gaming YouTube Channel uploaded a video announcing the return of the show along with former IG Co-host Matt Dannevik. Matt Dannevik announced in a video that he would be returning to Machinima and taking over the Inside Gaming channel, with help from other members of Machinima.[30] On the same day, Matt posted an AMA on /r/insidegaming where he answered questions regarding the revival of the channel. As of 2015, Phil Jasicki was the only member of the original crew to not leave the company with the rest of the team. On April 9, 2015, former IG daily co-host Matt Dannevik confirmed that he would return to host the daily news segments.
The new cast of Inside Gaming comprises Brandon Winfrey, Chloe Dykstra, Phil Jasicki, Stephen Ford and Shane / Shibby.
Format
Funhaus produces many shows such as Open Haus (Q&A), Google Trends, podcasts called Dude Soup and "Film Haus", gameplay series such as Demo Disk and Wheelhaus, a current live stream called FunhausTV on YouTube, and the now-defunct Sex Swing: The Animated Series. Shows produced by Funhaus for Rooster Teeth TV include "No Idea", "Arizona Circles", and "Last Laugh".
Gameplays
Gameplays last between 10 and 20 minutes. Some other gameplays are between 25 and 30 minutes. The longest gameplay has been around 48 minutes.
Most of FH's gameplays are usually single-player game-plays, where one person is the "lab rat" (test subject) while the other several cast members serve as background commentator and spectators, very similar to Achievement Hunter's "Let's Watch" series but the time duration is between 9 and 17 minutes. When it comes to these majority single-player gameplays, such as in Demo Disk, Wheelhaus (parody of Steam Roulette), One Dollar One Hour, Mod gameplays, etc., Adam or Lawrence is generally the test subject host at the mouse, keyboard and Xbox controller who is operating the gameplay controls, mostly being silent due to him focusing on the technicality aspect of the gameplays, while other co-hosts sit in the background provide comedic commentary over the games. Sometimes during these single player gameplays, Adam or Lawrence will opt out during the middle of the video, allowing others to be temporary test subjects.[31][32][33]
On several occasions, the team will perform multiplayer co-op gameplays and tactical shooter co-operative gameplays (like Human Fall Flat)[34][35][36] where all four main hosts (Adam, Bruce, James, and Lawrence) will play the game and provide commentary from their individual gaming desks (mostly in multiplayer first-person shooter video games)
Examples of these multiplayer co-op shooter video games include (but not limited to) the following:
CSGO, Verdun, Payday 2, Deep Rock Galactic, Raft, What The Box, Portal 2, H1Z1, Attack on Titan, Day of Infamy, Earth Defense Force, Clue Gameplay, Red Dead Redemption, Star Wars: Battlefront, Rocket League, The Wild Eight, Astroneer, Watch Dogs 2 Blackwake, Depth Coop, Halo 5: Guardians, Overwatch, Rainbow Six Siege, Battlefield 1, Warface, Hobo: Tough Life Gameplay, Smite, Dirty Bomb, Ghost Recon Wildlands, Gears of War 4, Friday the 13th, Dead By Daylight, Day of Infamy, Golf With Your Friends, The Division, Dead Rising 4, Star Wars Battlefront, Warhammer Vermintide, For Honor, Space Engineers, ARK: Survival Evolved, Dead Realm, GTA heists, PUBG, Fortnite Battle Royale, Call of Duty, Call of Duty World War II, Depth Coop, Gmod Prop Hunt and Murder Coop, Octodad, Destiny, Destiny 2, Killing Floor 2, Halo 5, Just Cause 2, Plants vs. Zombies Garden Warfare 2, The Division, Custom Forge Map, Star Trek Bridge Crew, Gmod Guess Who, Last Year, Gmod Murder, The Forest Hunt: Showdown, Apex Legends, Monopoly, Far Cry New Dawn, Rento Fortune, Dead Space 3, Lawbreakers, Zooicide, Paladins, and more.
The most popular multiplayer co-op gameplay the guys do from their individual gaming setup desks is Overwatch, which seems to show their teamwork at its best.[37]
Podcasts
Funhaus has two podcasts: Their primary host-talk show podcast titled "Dude Soup", where they talk about various topics including gaming news, pop culture, video games, technology products, TV shows, movies, world news, relationships, and more. Dude Soup focuses on comedy, gaming news and game culture in general.
The second podcast, Filmhaus, is a movie podcast mostly talks about reviewing and previewing movies (of varying genres) of the year (both old and new) and the crews opinion on them. The podcasts generally stars four (Adam Kovic, Bruce Greene, Lawrence Sonntag, and James Willems) members of Funhaus, with occasional guest appearances from other Rooster Teeth employees.
The format of the podcast varies. Some are formatted which one member sits on the chair closest to the camera operating the mouse, keyboard and Xbox, playing the game, browsing the web and watching web videos (which are relative to the topic being discussed) while others sit in the background. Others show the hosts sitting on couches (similar to the RT Podcast format) in a roundtable discussion with one member giving a powerpoint presentation on the trends, internet news about reviewing video games and technology products (as well as google trends, stocks, news about movies, TV shows, and world news) in a retrospective and comedic manner.
Fan Q&As
Their biggest fan Q&A show is Open Haus. Episodes run between 9 and 15 minutes. The hosts are seated separately at their individual gaming desks (with gaming headphones and andgaming mics, as they would during the play-through of multiplayer co-op gameplays such as Overwatch and Rainbow Six Siege), some of the hosts have another member sitting beside them, with the team answering questions from their fans in a laid back, nonserious, retrospective and comedic manner. The videos also have photo-shopped images and green-screen effects of the staff...in unusual situations spliced in at at regular intervals. These questions are taken from the subreddit, YouTube comments, and on Twitter.[38]
Online popularity
Before their departure from Machinima, The Inside Gaming YouTube channel had garnered more than 700,000 subscribers with their videos having a regular view count of more than 200,000[2]. In early 2013, /r/insidegaming was created by former crew member Jaysagus which by 2015 had 20.000 users or "actors"[3]. The Inside Gaming Twitter account[4] which was created on April 2009 has since gain more than 178.000 followers while their Facebook page[5]has more than 113.000 likes.
Criticism
Inside Gaming is often criticized for using clickbait-style thumbnails and titles for their videos. On October 30, 2014, Inside Gaming uploaded a podcast video titled "Xbox One VS PS4: CONSOLE WAR" in which they address why they use clickbait for their videos.[39]
Staff
The members of Funhaus are often referred to as Hausmates  (pronounced as "house-mates") by the Funhaus community. The main Funhaus hosts are: James and Elyse Willems.
Main cast
These main cast members are Funhaus' primary on-camera hosts and core on-screen talent/personalities.
James Willems

February 5, 2015 – present: Creative Director, Main on-camera co-host, content producer, co-star, actor, voice actor, gaming journalist, comedian, screenwriter and director (for Arizona Circle, Talking Stalkings and Sex Swing) and producer

Elyse Willems

November 24, 2015 – present: Co-Creative Director, producer, and principal on-camera co-host, content producer, co-star, on-camera talent, personality, gaming journalist, actress, voice actress, and screenwriter (for Arizona Circle, Sex Swing, and Mandatory Update).
November 23, 2015 - late February/early March 2016: editor, recurring secondary host
Crew
These are Funhaus' behind the scenes editors and contributors.
Former staff and crew
In the Spring of 2016, Poole and Rubin left Funhaus. Greene and Sonntag left in the fall of 2019. Kovic departed the company after breaching its code of conduct in October 2020.
Resignations
Sean Poole, or Spoole, announced in early February 2016 (shortly following one full year of employment) via a Reddit blog post that he was amicably resigning from his position, leaving Funhaus and Rooster Teeth on good terms, as he had already missed his family and friends in Seattle, and wanted to pursue his personal dreams. While he has left Funhaus, he still continues to stream on Twitch more often, full-time.
Joel Rubin also announced his resignation and departure two months later early April 2016. He primarily worked as the Channel Director of Programming on Funhaus (the same role, job and position back at Inside Gaming) and in his announcement post, he said that Funhaus has essentially expanded, developed and evolved to the point where he felt that he and his boss job duties weren't needed there anymore, especially now that the team, after over a full year, already had a lot of experience and knowledge of how to run, program and function their YouTube and Twitch channels by now and on their own, so he felt that it was time for him to move on to "another challenge". That, and he felt that he wasn't being challenged careers wise. On April 19, 2016, Joel worked at SourceFed and SourceFedNERD as the Channel Programming Director in a similar role until late March 2017, when SourceFed was cancelled by Group Nine Media although he still stays to reside and work in LA continued to reprise his role and voice his character in Sex Swing: The Animated Adventures, until the series eventual cancellation.[44][45]
On September 3, 2019, Greene announced he was leaving Funhaus and Rooster Teeth to pursue his own brand after taking a month sabbatical to reflect on his decision. On December 17, 2019, Lawrence Sonntag announced that he was leaving Rooster Teeth.
Shows
Funhaus upload videos daily and most of them are weekly episodes of popular shows. Every once in a while they will upload gameplay videos of miscellaneous games, or make live action shorts, skits and more. Most gameplay videos have video recordings of the crew in a corner of the screen.
Demo Disk
Perhaps Funhaus' most popular show, Demo Disk started when a fan of Funhaus gave the guys a collection of old demo disks in a disk binder. In each video, James picks out a disk from the binder and hands it to Adam, who installs and plays the game demos on the disk. Most of these games are terrible and/or broken, giving James and Bruce the opportunity to make jokes and commentate over the gameplay.
The life of every disk they try ends with Bruce snapping it to pieces. Videos also include occasional visits of the "Rule 34" pages of whatever character, movie, game or show is brought up in conversation.
Dude Soup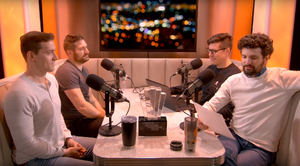 Dude Soup is the weekly podcast run by Funhaus. Lawrence is the main producer of Dude Soup, he introduces topics and does ad reads on the show. The video recordings of the hosts are paired with gameplay footage, usually relevant to the topic(s) being discussed. Subjects usually revolve around video game news, game development or journalism, and sometimes movies, or internet drama.
Every episode starts off with an intro by Lawrence, following the structure "Welcome, everyone, to a [small description] [adjective] bowl of Dude Soup". Dude Soup is also live streamed weekly for Rooster Teeth First members on roosterteeth.com.
'Dude Soup' was one of the names that the team was considering for their new channel, back in February, 2015. They claim it was between 'Funhaus' and 'Dude Soup', and they decided on the former. Then, when trying to think of a title for the podcast, they felt 'Dude Soup' was too good a name to pass up.
Funhaus Cartoons
See main article:
Funhaus Cartoons
.
Monthly videos where the funniest and most memorable moments in Funhaus videos are animated with 3D cartoony characters.
Fan Show (Sponsor Only)
Previously known as Fan Art and Art Haus, Funhaus find and showcase the best of the Funhaus community in any given week. Majority of these videos revolve around putting pieces of Funhaus fan art in the spotlight.
Several videos were made back when Funhaus started, but the show disappeared for a while, due to the time it took to make them and the amount of views that the videos were getting. Nowadays weekly 30-minute Fan Show episodes are available to FIRST members on roosterteeth.com. Fan Show is livestream- ed before the start of every Dude Soup episode.
Funhaus Comments
This show, which was originally part of podcast episodes, consists of the guys congregate around the main office space, picking and printing out comments submitted by fans, and responding to them appropriately. It's common for these comments to be negative or disagreeing of a particular Hausmate's opinions, and Funhaus Comments gives the crew an opportunity to publicly address them.
Funhaus Shorts
See main article:
Funhaus Shorts
.
Live-action skits, live action sketch comedy shorts (action comedy live action short films). Very similar to Rooster Teeth Shorts. It stars Adam, Bruce, James and Lawrence with occasional appearances from other Rooster Teeth employees. "Funhaus Tourism Bureau" is one of the mini-series of Funhaus Shorts.
GTA 5 Gameplay
One of the more "regular" gameplays, a group of 3-4 go into GTA Online custom matches and compete with fans. Often displaying how unskilled all of them are at Grand Theft Auto 5. In the game lobbies they also try to talk the fans that have headset microphones. The GTA 5 gameplays are frequently streamed live on their YouTube channel, several days before the fully edited videos get uploaded to YouTube. Funhaus GTA 5 Gameplay is a series where the crew (either one person or 4 crew members) would play GTA 5 Online matches, usually with the fan community. One popular GTA 5 series on Funhaus is the Funheists, where 4 guys go on cooperative heist missions online. It debuted in the early days of Funhaus, disappeared for a year, and came back in April, 2016.
Open Haus
Open Haus is the weekly Q&A show by Funhaus very similar in style to the Q&A series they had on Inside Gaming, every episode has the crew answering 6-7 questions submitted on Reddit threads. The hosts are seen sitting at their individual gaming desks (as they world during the play through of multiplayer co-operative first person shooter video games).
While the focus of the show was originally to answer gaming-related questions that fans had, more recent episodes showcase Funhaus answering funny, silly, sometimes hypothetical questions. They even make fun of that every fact, sometimes joking about the nature of comments or how unfunny Open Haus is.
In earlier episodes, Adam, Bruce and James would answer questions with another member, such as Lawrence or Joel. But improvements in office space has allowed them to feature the entire crew in every episode.
Other shows
FAQ Podcast (canceled)
FAQ, or "Funhaus Answers Questions", where Funhaus have 5 to 10-minute Skype calls with fans, who ask them questions regarding a particular topic in gaming. The final episode of the FAQ Podcast aired on August 21, 2015.
Related series from Inside Gaming
Some Funhaus content is similar to Inside Gaming's.
Steam Roulette
Steam Roulette is a series of the IG crew playing random games on Steam using Steam Roulette. Certain games such as Chaser and The Sims 3 would branch out into their own gameplay series.[46]
GTAIV Mod Gameplay
GTAIV Mod Gameplay is a series where the crew would play a heavily modded Grand Theft Auto IV, often resulting in the game becoming unstable and prone to crashing. The show is notable for featuring guest stars from the video game industry such as Jason Zumwalt (The voice of Roman Bellic in GTAIV) and Oliver Vaquer (The voice of Robert Lutece in Bioshock Infinite). It is currently the most watched series, with its most popular video having more than 1,500,000 views as of 2015.[47]
Drunk Series
The Drunk Series is a gameshow where the crew would play a specific game that was handpicked and place certain rules where the participants must take shots (i.e. : One death while playing Dark Souls equals one shot) which usually resulted in the crew becoming intoxicated.[48][49]
Force Quit
Force Quit is a live action mockumentary series detailing the daily lives of the Inside Gaming crew working on Machinima. The series would become notable due to its low view count, becoming a joke among the crew.[50]
Podcast
The Inside Gaming Podcast is a weekly podcast show where the Inside Gaming crew talk about events in the video game industry and provide commentary on the subject. Though originally the format involved the crew speaking together face to face, later episodes involved them simultaneously playing video games.[51]
The Movie: The Game
The Movie: The Game is a series in which the crew would watch videogame cutscenes and criticize the flaws and plotholes of said scenes, similar to the format of MST3K.[52][53]
Q&A
The Q&A is a weekly segment where the IG crew would answer questions submitted to them by the community on the IG subreddit.[54]
GTA Online Gameplay
GTA Online Gameplay is a series where the crew play matches on GTA Online. Originally beginning as a challenge series similar to the Imaginary Achievements series on Achievement Hunter, it later involved basic online matches. The crew would often play alongside members of the fanbase, prominently Nate, Turbid, Katybacon, Jessicore, Sizzle, and others.[55]
Achievement Hunter rivalry
From the day Funhaus began, a rivalry was born between it and Rooster Teeth's other gaming channel, Achievement Hunter. Jokes at how lazy Achievement Hunter are very common to see in Funhaus videos.
When Jon Risinger had designed the Funhaus logo, they had several options that they could go with in terms of color. One of the reasons they landed on orange was because it is a great opposite color to Achievement Hunter's green.
Funhaus and Achievement Hunter have battled it out several times in videos, in games such as Rainbow Six: Siege, Smite, GTA 5 and more.
Trivia
A YouTube video was released showing fans how to pronounce "Funhaus". It is really pronounced as "fun house".
Funhaus refers to their fellow Rooster Teeth friends and colleagues as "Hausmates". These include YouTube channels The Know, Rooster Teeth, Achievement Hunter, LetsPlay, The Slow Mo Guys and Red vs Blue
The team was already known online Machinima's old Inside Gaming department, and have previously appeared on season two of Rooster Teeth's competition show The Gauntlet.
The Funhaus guys will not only play games on their channel, but will also release a podcast, cover related events, participate in fan Q&A sessions, contribute to Rooster Teeth's news show The Know, and appear on Rooster Teeth's video podcast. Members of the Austin production company Rooster Teeth (which was acquired by YouTube multi-channel network Fullscreen in November 2014) alongside its department Achievement Hunter will occasionally be seen in Funhaus's projects, too.
References
External links
Funhaus
Crew
Cast
Support
Animals
Former
Recurring Guests

Rahul Kohli

Charlie White
Shows
Current

Best Of

Esports Ejects

Post Show

Fullhaus

Filmhaus Podcast

Funhaus Shorts

In Review

Gameplay series

Alekhines Gun Gameplay

Drunk Gameplay

Gore Gameplay

GTA V Gameplay

Hitman Gameplay

Mod Gameplay

My Boyfriend Gameplay

My Summer Car Gameplay

Inactive or retired

See also:

Funhaus timeline

 · 

Inside Gaming
Let's Play Family
Main Groups
Smaller Channels & Individuals

Former
Events