"After a fan sent us a binder of PC Gamer demo discs of games, we knew what we had to do: play them all, no matter how terrible. Demo Disk showcases 1990s to early 2000s-era games, with running commentary and jokes."
Demo Disk is an ongoing Funhaus gameplay series where Adam Kovic, James Willems, Bruce Greene and occasionally other Funhaus members will play a random old selection of Demo Disks of games sent by a PC Gamer fan (which was submitted by reddit user Kage_Oni. ). The games are from the 90's or 2000's era games which the team plays all, no matter how terrible they are, until they expire - at which point Bruce will proceed to snap the disk. Usually by the end of the gameplay, Bruce Greene would destroy the disc for comedic reasons with running jokes and commentary.
The team will also procrastinate from the game while it is installing to follow something they mentioned in conversation, most regularly known to be "Is there a 'Rule 34' for _____", which they will search - this is unseen by viewers, since the entire page is usually blurred while they are looking at it.
As of April 7, 2019's episode 'Go Duck Yourself', Demo Disk is on a hiatus.[1]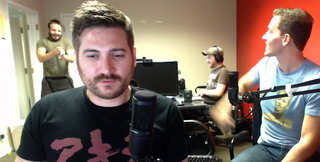 Episodes
[
]
See main article: Demo Disk/episode listing.
Censorship
[
]
Frequently, episodes contain adult content. This may include inappropriate titles or thumbnails, inadequately censored video (like un-blurred 'rule 34'), and more. These videos can be age-gated on YouTube. Watching these videos then requires registering a YouTube account and enabling an age setting. In one case, "FROZEN AND PREGNANT" was removed from YouTube entirely.
To combat YouTube's content restrictions, some videos are available in "NSFW" format on Rooster Teeth's website.
Re-title
[
]
In many cases, on YouTube, Funhaus has renamed videos. Rooster Teeth's website retains the original video titles.
"Stupid Sexy Deer" → "SCROBBLES"
"BREAK EVERY DISK" → "AVENGERS ASS-EMBLE"
"RED BARON WAS A NAZI" → "WHO KILLED CHYNA?"
"PORN STAR BATMAN" → "TOO SOON?"
"ROBIN CLITORAL HOOD" → "ROBIN HOOD"
"PRISON GANG BANG" → "HIDEOUS MONSTERS"
"JURASSIC F*CK" → "JURASSIC GROSS"
"DUKE NUKEM IS A CUCK" → "DUKE NUKEM SUCKS"
"SERVING BALLS" → "SERVING A BALL"
"MEESA HORNY" → "MEESA GROSS"
"MEDIEVAL LESBIAN" → "AMAZING FAIRIES"
"STAR WHORES" → "WHAT A LIGHTSABER"
"F#@&ING DORY" → "FINDING DORY"
"C*CK BLOCKS" → "LEGO MY BLOCK"
"SEXY SAFARI" → "HOT SAFARI"
"WORLD WAR WANK" → "WORLD AT WAR"
"METAL SLUT" → "SAD-LIFE 2"
"PLANET 34" → "ILLEGAL ALIEN"
Trivia
[
]
Episode 1's thumbnail spelled Demo Disk as "Demo Disc".
"CRAZY FROG" and "THERE IS NO POON" are unavailable on roosterteeth.com.
"Playstation 2 Hot To Handle" is titled "Sticky Fingers" on roosterteeth.com.
Gallery
[
]
References
[
]

Funhaus
Crew
Cast
Support
Animals
Former
Recurring Guests

Rahul Kohli

Charlie White
Shows
Current

Best Of

Esports Ejects

Post Show

Fullhaus

Filmhaus Podcast

Funhaus Shorts

In Review

Gameplay series

Alekhines Gun Gameplay

Drunk Gameplay

Gore Gameplay

GTA V Gameplay

Hitman Gameplay

Mod Gameplay

My Boyfriend Gameplay

My Summer Car Gameplay

Inactive or retired

See also:

Funhaus timeline

 · 

Inside Gaming