Craig Richard Skistimas (born June 17, 1981 in Dallas, TX),[1] also known as "Stuttering Craig" or "Evil Craig", is an American entrepreneur, actor, voice actor, producer, writer, comedian, show and podcast co-host, video game entertainer, Let's Player and Internet and YouTube personality. He is best known as the co-founder and former General Manager of ScrewAttack, a division of Rooster Teeth Productions as well as presently working on the independent and privately held gameplay Game Attack as their general manager. He co-founded the production company ScrewAttack! in 2006 and is best known for his roles on Death Battle, Top 10, DBX, and Sidescrollers. He also co-founded Game Attack, a secondary video gaming gameplay division of ScrewAttack and Rooster Teeth's newest gaming brand, which, as of May 2017, is now a completely independent, privately held Let's Play gaming channel. He is an actor and producer, known for Sonic (2013), Death Battle (2010) and ScrewAttack's Top 10s (2006).
He is well known for mostly wearing his hat (a baseball cap), and for being a former SlamBall basketball player. He started the company with friend Thomas Hanley "Tom", Jr. in 2006. ScrewAttack was one of the fastest gaming businesses in the world. With a unique blend of entertainment and video games that has the versatility to branch into the four major mediums (Television, Radio, Film, and Internet), ScrewAttack continues its rise to becoming a staple in the gaming and entertainment industries.
Craig loves food-eating challenges and competitions. He regularly tries to get people on board to compete in these activities. Craig is a fan of old-school hard video games. He loves platformers and fighting games. Craig is well known for telling things as they are and isn't afraid of calling people out.
Craig has a bachelor's degree in journalism from the University of North Texas.
Craig made a small appearance as a scientist in the Far Cry film, and as a news anchor on the 2013 Sonic short. Craig is also a fan of local Dallas hip hop artist Logik the Journeyman.
In October 2016, Craig moved away from being the owner of Screw Attack to work on ScrewAttack's video gameplay division Game Attack, best known as the "Achievement Hunter" of ScrewAttack.
Early life and education
Edit
Craig grew up primarily in the Dallas/Fort Worth, Texas, area where, for his education, he attended Edward S. Marcus High School in Flower Mound, Texas. He started in 1995, graduating four years later, in the Class of 1999. He then attended the University of North Texas in Denton, Texas in 1999 where he primarily studied journalism. He then went on to receive a Bachelor of Arts (BA) in Broadcast Journalism from the University of North Texas, graduating in 2005. Craig started out in life wanting to be a basketball player. During an interview at RTX 2016, Craig claimed that when he finished school, he "hated to read and write". After finishing and graduating out of school, he wanted to do sports broadcasting.[2]
Career and Experience
Edit
Coca-Cola: 2000-03
Edit
Craig first worked as a Regional Field Management employee at The Coca-Cola Company for 3 years from 2000 until 2003.
Slamball: 2003
Edit
Next, Craig worked an athlete superstar and basketball player at Slamball in 2003 for less than a year. There, he trained and competed on Spike TV's television show, SlamBall. Wearing number 33, he played for the Bandits in their one year in the sport. His average points per game hovered around 3, but he did get a hot start in one where he scored 8 to open the game up and 15 overall.
NBA Development League 2005-06
Edit
Then, Craig worked as an In-Game Entertainment employee at the sports company NBA Development League for 1 year from 2005 until 2006, based in the Dallas/Fort Worth Area/Austin, TX.
Craig also had worked at GameTrailers, and he used to play Slamball. Craig was also the founder and former employee of GamingDrop, based in Dallas, Texas, where he got to get to bring people the best value in video games every single month.
Pre-Fullscreen and Rooster Teeth acquisition: 2005-2014
Edit
General Manager of ScrewAttack (independent company) December 2005 to February 28, 2014
Edit
The idea and conception of ScrewAttack came to life in fall of 2005. The original ScrewAttack website December 2005. ScrewAttack Entertainment LLC, based in Dallas, Texas was founded in mid-February 2006 where Craig would run as the General Manager with co-founder "Handsome" Thomas "Tom" Hanley, Jr. As a founder of ScrewAttack, Craig appears in much of the content the company produces including DEATH BATTLE, Sidescrollers, Top 10, and more. Craig co-founded the website ScrewAttack! with Thomas Hanley in early 2006. The first show to air on it was an audio podcast called SideScrollers. Viacom Media Networks acquired rights to some of ScrewAttack's shows, namely Top 10's, Video Game Vault and the Angry Video Game Nerd, adding it to GameTrailers. Overall ScrewAttack's content has been viewed over 1 billion times through its website and various syndication partners including YouTube, GameTrailers, IGN, Revision 3 and Escapist.
Owner/Program Director at ScrewAttack Entertainment LLC: February 2006 – Present
Edit
Here, Craig primarily created digital content that has been viewed over 2 billion times between 2006 and 2014, and oversaw the business growth and grew the creative landscape to expand ScrewAttack from a one-man operation into one of the most viewed independent gaming brands online. He also lead development vision for ten designs and redesigns of the various ScrewAttack owned website properties, created multiple opportunities for content syndication with Viacom, Ziff Davis and other third parties, grew the ScrewAttack.com website traffic and ScrewAttack content engagement annually, conceptualized, and finally organized and launched the annual ScrewAttack Live event "SGC" (ScrewAttack gaming Convention) that welcomed nearly 5,000 paid attendees from around the world in 2015.
Fullscreen acquisition: 2014-present
Edit
General Manager of ScrewAttack-owned Fullscreen:  March 1, 2014 to December 31, 2015
Edit
It was announced that ScrewAttack would be bought by Fullscreen for an undisclosed amount. On March 28, 2014, ScrewAttack was acquired by Fullscreen. With the acquisition, Fullscreen rebranded its gaming-focused hub, Fullscreen Arcade, to ScrewAttack Network. With his company (ScrewAttack Entertainment LLC) now having been acquired by Fullscreen Inc, his responsibilities now included providing vision, management and expertise to the largest MCN on YouTube (Fullscreen) in its largest vertical (gaming). He created and executed strategy to exponentially grow the ScrewAttack YouTube channel from eight million to 33 million views per month over a twelve-month period through inventive, innovative, efficient and cost ­effective feasible programming. Also, he successfully managed a team of over 25 full-time, part­ time and freelance staff, served as liaison with Fullscreen and the Rooster Teeth sales team and jointly managed advertisers to help reach revenue goals. In addition, he lead a product team to create content for an upcoming Fullscreen OTT platform. Furthermore, he oversaw the growth, development, expansion and evolution of ScrewAttack social media and branding messaging, represented and spoke on behalf ScrewAttack and Fullscreen at major industry events including SXSW, SGC, E3, RTX and PAX, created and executed strategy to extend the reach of our popular ​DEATH BATTLE! series, and finally oversaw the video game publishing arm of the business to three successful game launches on various platforms including PC, Xbox, iOS, Android, Nintendo hardware.
Rooster Teeth acquisition: 2015-present
Edit
General Manager of ScrewAttack-owned Rooster Teeth: January 1, 2016 to September 30, 2016
Edit
On November 4, 2015, ScrewAttack announced that they would be partnering up and becoming part of Rooster Teeth in addition to SCG merging at RTX. With ScrewAttack's partnership with Let's Play and Rooster Teeth, Craig and his fellow ScrewAttack employees have appeared in multiple Let's Play videos. Similar to his earlier role, he would run ScrewAttack and do fellow collaborations with Achievement Hunter, Rooster Teeth, Funhaus, The Know and more, including crossovers between Death Battle and Top 10 with RWBY and Red vs Blue. ScrewAtack also attended the second rendition of the Let's Play Live concert in Los Angeles. Its website has updated and modified to be consistent with Rooster Teeth's branding and website format, along with all its previously existing users becoming Rooster Teeth users and its forums being absorbed into Rooster Teeth's forums.
Game Attack Launch: 2016-present
Edit
General Manager at Game Attack-owned ScrewAttack and Rooster Teeth:  October 10, 2016 to present
Edit
Game Attack started as a Let's Play show on ScrewAttack. In August 2016, it was announced that "everything would change on 10/10/16", referring to the date October 10, 2016. On September 26, 2016, ScrewAttack released a video on their YouTube channel titled "EVERYTHING CHANGES", with the video itself just stating the date October 10, 2016. On that day, at 10 am CT, they released another video explaining how Craig Skistimas, along with fellow ScrewAtttack-owned Rooster Teeth employees Shaun Bolen, Bryan Baker, and Parker Bohon, would be stepping down from their current positions, switching focus and changing departments in order to work elsewhere at ScrewAttack in order to build, develop, expand, evolve, work on and focus on a spin-off brand best known and understood the so-called "Achievement Hunter" of ScrewAttack called "Game Attack", and making a spin-off brand known as "Game Attack", after a gameplay series that had been airing for a few months at that point.  Game Attack was announced on October 10, 2016.
On October 10, 2016, Craig announced that he was stepping down from his current position at ScrewAttack, switching focus, changing departments and working elsewhere at ScrewAttack-owned Rooster Teeth to start a new project known as Game Attack, the new video gameplay division of ScrewAttack along with Shaun Bolen and Parker Brohon, with Sean and Chad in charge. Game Attack is still a part of ScrewAtack and Rooster Teeth, with occasional crossovers with fellow employees of the overall same company such as with Sam and Chad (very similar as o how Achievement Hunter does occasional crossovers with Gus, Burnie and Kerry) and is still filmed and based in ScrewAttack's offices (very similar as to how Achievement Hunter was also filmed in Rooster Teeth's offices, with the exception of how AH moved out of Stage 5 due to their massive growth). ScrewAttack and Game Attack will continue to work together because they are both owned by Rooster Teeth.
Craig is now the general manager of ScrewAttack's video gameplay division and Rooster Teeth's newest video gaming brand Game Attack, best known as the "Achievement Hunter" of ScrewAttack. He, along with Shaun, Bryan and Parker release and make comedic gameplay videos in a very similar manner to Achievement Hunter, release the official Game Attack Podcast called the "Try Hard Podcast" (very similar to the official official Achievement Hunter podcast, Off Topic and the Funhaus Podcast Dude Soup), make live streams and appearances at Rooster Teeth's Let's Play family Network and Let's Play Live and collaborate with their Rooster Teeth counterpart Achievement Hunter, Funhaus and other members including Kinda Funny, The Creatures and Cow Chop. Game Attack would take over ScrewAttack's role of participating in the Rooster Teeth Let's Play family network, while ScrewAttack would work together with Rooster Teeth, continuing the crossovers between Death Battle and Top 10 with RWBY and Red vs Blue. Furthermore, the Game Attack Team (Craig, Shaun, Bryan and Parker) would still continue to reprise their roles on Death Battle, Top 10, the Sidescrollers podcast and more (similar as to how Geoff and Jack continued to reprise their roles on Red vs Blue, the RT Podcast and Immersion, with the exception that Geoff departed from the RT podcast because of Griffon's departure from the company, as well as having switched his focus onto managing Achievement Hunter and Let's Play projects).
ScrewAttack roles
Edit
As the founder and owner of the company, Craig was heavily involved in the day-to-day business at the company. He stars in many of the shows that ScrewAttack has. In the early years of ScrewAttack, Craig wrote and starred in Sidescrollers, Video Game Vaults and Top 10's.
He has also appeared in most of the Clip of the Weeks, and hosted many episodes of Screwin' Around and ScrewAttack Live.
ScrewAttack shows
Edit
Top 10's, Video Game Vaults, Screwin' Around, The Best Ever, Evil Craig, Hey! Let's Play, ScrewAttack Live, Metal Gear Ben, Sidescrollers, Clip of the Week, The #1 Show, GameAttack etc.
Screwattack's Video Game Vault: The Best of Nintendo 64
Family life
Edit
Craig was born and raised in Dallas, Texas, in the Dallas/Fort Worth Area, where he resides with his mother and his spouse Kristen Skistimas (née E. Ranker). He and his wife Kristen have two daughters: Mackenzie and Madelyn.[3] As an infant, Mackenzie appeared in several Screwin' Around episodes. He is of Polish descent, and has a nephew, Dylan James Skistimas (born February 16, 2012).
Personality
Edit
Craig also has two fictional alter egos, Evil Craig — an evil version of Craig who is usually seen without his hat and who seems to hate everything. He also plays Jimmy Jimmy Woods — a wrestling commentator.
Evil Craig is a character portrayed by Craig Skistimas, usually for comedic effect. Evil Craig is the host of Reasons We Hate. Evil Craig is a foul-mouthed, hateful, diabolical, sadistic, loud, petty, and most importantly angry character. He hates everything and isn't afraid to say it. He yells, rants, and swears a lot He even hates people who complain about things on the internet, despite the fact that this is his job. The only thing that Evil Craig likes is pancakes. Evil Craig is angry that people didn't buy his shirt, which he advertises constantly, attempting to force people to buy it. When they didn't, he got even angrier that the viewers got him fired. After he was fired, he took his rage out on his Twitter account. Evil Craig threatens the viewer with vile threats (usually involving killing animals) if they don't thumbs up his videos on YouTube.
Evil Craig lives with his mom (Craig's mother), and complains about her in his videos.
He used to play wikipedia:Slamball Slamball, wearing number 33 while playing for the Bandits.
Craig's top skills include broadcast, entertainment, radio, television, video games, journalism, film, social networking, event management and Public relations. He also knows about volunteer management, direct marketing, brand awareness, and event planning.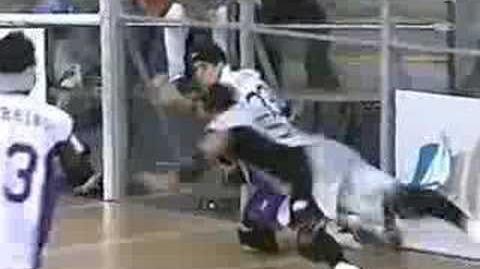 References
Edit
External links
Edit
Community content is available under
CC-BY-SA
unless otherwise noted.