Jurassic World: Dominion Dominates Fandom Wikis - The Loop
Play Sound
See also: Barbara Vlogs.
"To celebrate the Year of the Rooster, Burnie will be releasing new behind-the-scenes vlogs for RT Life. Ever wondered what a workday looks like at Rooster Teeth?"
— episode 1 description
The Burnie Vlog, formerly known as the FIRST Member Vlog, was a weekly public vlog created by Rooster Teeth CCO (Chief Creative Officer); Burnie Burns. The vlog was created to celebrate Year of the Rooster on January 27, 2017 and highlights Burns's travel and daily life at Rooster Teeth. The vlog is also run by Ellie Main, who is on a quest to become Burnie's body guard in case of an apocalypse. During the December 3rd, 2017 vlog, Burnie announced that he will be ending the vlog at the end of 2017 to make way for future projects.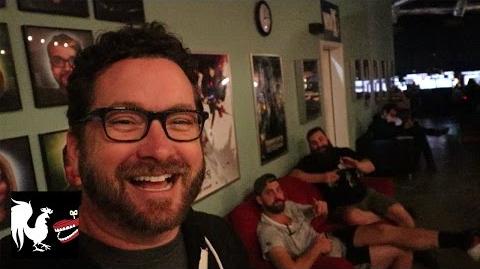 Episode listing
[
]
| # | Title | Date | Link |
| --- | --- | --- | --- |
| 1 | Burnie Vlog #1 | January 26, 2017 | |
| 2 | Burnie Vlog #2 | February 2, 2017 | |
| 3 | RTX Sydney | February 9, 2017 | |
| 4 | New Zealand | February 16, 2017 | |
| 5 | Broken Nintendo Switch | February 24, 2017 | |
| 6 | Grocery Store | March 2, 2017 | |
| 7 | Cartoon Tesla | March 10, 2017 | |
| 8 | Los Angeles | March 17, 2017 | |
| 9 | At the Special Olympics | March 24, 2017 | |
| 10 | Q&A | April 3, 2017 | |
| 11 | Lockhart BBQ Tour | April 6, 2017 | |
| 12 | A Day On A Film Set | April 17, 2017 | |
| 13 | Gavin's British Cowboy Makeover | April 20, 2017 | |
| 14 | How Does Rooster Teeth Make Money? | April 28, 2017 | |
| 15 | San Francisco "High-End" Weed Dinner | May 4, 2017 | |
| 16 | New Assistant and a Cheese Dinner | May 11, 2017 | |
| 17 | How I Stay Motivated | May 18, 2017 | |
| 18 | The Last Ringling Circus | May 26, 2017 | |
| 19 | Failure | June 1, 2017 | |
| 20 | Battlegrounds Win and Company All Hands | June 8, 2017 | |
| 21 | Battlefront II vs AH and The New Xbox at E3 | June 12, 2017 | |
| 22 | RTX Austin Food Tour | July 6, 2017 | |
| 23 | RTX Austin | July 10, 2017 | |
| 24 | How to Get a Job at Rooster Teeth... (or any creative company) | July 17, 2017 | |
| 25 | Say Yes to Everything | July 24, 2017 | |
| 26 | Battlegrounds and Cheddar Biscuits | July 31, 2017 | |
| 27 | Ellie is Trying to Kill Me? | August 7, 2017 | |
| 28 | Performance Review | August 14, 2017 | |
| 29 | Making a Sword | August 21, 2017 | |
| 30 | New York Dojo | August 28, 2017 | |
| 31 | Machine Gun Helicopter | September 4, 2017 | |
| 32 | Harvey Donation Boxes | September 11, 2017 | |
| 33 | Ellie Learns Krav Maga | September 18, 2017 | |
| 34 | Sniper School | September 25, 2017 | |
| 35 | Streamys, Edgewalk, and Barenaked Ladies | October 2, 2017 | |
| 36 | Making a Sword Belt | October 9, 2017 | |
| 37 | Burnie's New Bus | October 16, 2017 | |
| 38 | RTX London | October 23, 2017 | |
| 39 | Foraging in Kent | October 30, 2017 | |
| 40 | PAX Australia | November 6, 2017 | |
| 41 | Scuba Diving at the Great Barrier Reef | November 13, 2017 | |
| 42 | Saying No & Extra Life Behind the Scenes | November 20, 2017 | |
| 43 | Quests at the Renaissance Faire | November 27, 2017 | |
| 44 | Taking Risks | December 4, 2017 | |
| 45 | Getting Fit for the Apocalypse | December 11, 2017 | |
| 46 | Inspiration | December 18, 2017 | |
| 47 | Year of the Rooster | December 25, 2017 | |
| 48 | Ellie Gets Fired | January 2, 2018 | |
| 49 | Resolutions | January 8, 2018 | |
| 50 | AMA | January 16, 2018 | |
| 51 | The Final Vlog | January 22, 2018 | |

Episode Listing Articles

Rooster Teeth

Let's Play / Achievement Hunter
Show
Game
Genre

Funhaus
References
[
]